First, how do we describe multiplication checking?
We do checking since we're working with a decision problem
The expressions we're looking at are possibly correct multiplication expressions with the answers already written
The first thing we describe multiplication checking is
at the highest possible level
In our computational model, we would assume the multiplication expression we're trying to check
lives on some portion of the memory tape that we assume extends indefinitely to the right of where the input is written
Our algorithm that we will design will not need any portion of the tape that doesn't already start with the input on it.
Checking at a high level, we will naturally have a nested for loop. We will have something like this
for each of the 1's before *

We will mark it

for each of the 1's between * and =

We will mark it and the next unmarked 1 after =

Restore all the 1s between * and = after marking all of them

if there are no 1s left unmarked after =, we accept



The idea here is that we mark the number of 1's after the = by the amount of 1's on the right of * and repeat it by the number of 1's to the left of *.
We accept input that marks all the 1's to the right of =.
We leave the empty memory characters alone. They indicate that we reached the end of our input and we can accept our string.
Transitioning from high level pseudocode, we have the following low level pseudo code.
From here we can build a state machine to check our multiplication.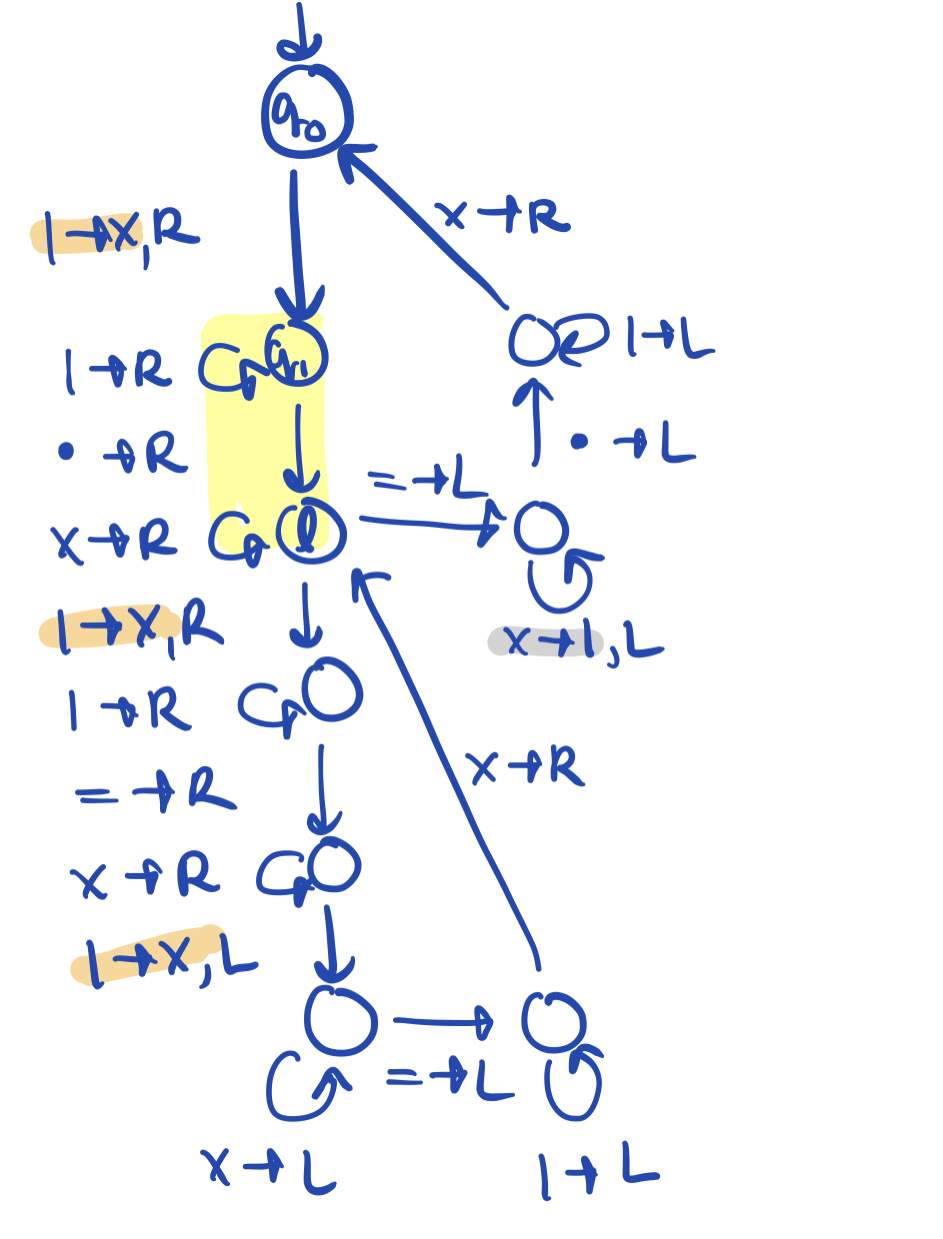 The idea here is when we begin at q0,
if we read a 1, we replace it with an x, and we move to the right of * to our first 1 and we move to qn (mark 1 from the first part)
At qn,

with 1->R, we are replacing a 1 with a 1 since there's nothing to replace and loop there (passing through the 1's on the left of *)
If we read a *, we replace * with * to move right and reach the looping state (passing *)

At the looping state

If we read a 1, we replace it with an x, and we move right and move to the next state B0 (marking 1 from the second part)
If we read an =, we replace it with an = and we move left and move to state C0 (all our 1's on the second part are marked)
If we read a x, we replace it with a x and we move Right (passing all the marked 1s)

At B0

If we read a 1, we replace it with a 1 and we move right (move past all the 1s)
If we read an =, we replace it with = and we move right and we move to B1 (move past = to first 1)

At B1

If we read an x, we replace it with an x and we move right (move past all the marked 1's)
If we read a 1, we replace it with an x and we move Left and we move to B2 (mark the 1 in the third part)

At B2

If we read an x, we replace it with an x and we move left (move back towards = passing all marked 1's in the third section)
If we read an =, we replace it with = and we move left and we move to B3 (moving past the =)

At B3

if we read a 1, we replace it with a 1 and we move Left (passing all the 1s in the second section)
If we read an x, we replace it with an x and we move right and we return to the looping state where our first x was introduced (reaching a marked 1 in the second part)

At C0

If we read an x, we replace it with a 1 and we move left (restoring all the 1s in the second part)
If we read a *, we replace it with * and move left and move to C1 (passing the *'

At C1

If we read a 1, we replace it with 1 and we move left (moving past the 1s in the first part)
If we read an x, we replace it with x and we move right and we move to q0 (start over with the next unmarked 1 in the first part)
Notice there's no accept state yet. Let's create one
Once we have marked all our 1's on the first part, we end up at *

We transition to a state q2 and move right (to the first 1 in the second part)

If we read a 1, we move right (passing the 1's in the second part)
If we read an =, we move right and transition to a state q3 (passing the equal sign)

At q3

if we read an x, we move right (passing the marked 1s in the third section)
if we read the empty symbol, we move right and transition to the accept state (passing the first empty character)
Our machine doesn't know when something bad happens like a bad string
If we have an extra 1 on the third part when we multiplied 2*3, it would equal 7

We would want to reject the input

If we didn't specify any other rules at a certain state

We would reach a reject state